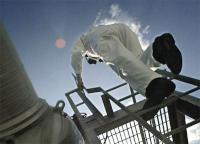 DNV GL has secured a contract to provide in-service verification and classification services to a range of facilities at the Ichthys LNG project in Australia.
The contract marks INPEX's commitment to continue working with DNV GL as it prepares to transition from the project execution phase to the operational phase of the mega project. DNV GL has provided vendor inspection, verification and offshore classification support to the USD 34 billion venture since 2012.
This latest contract will see DNV GL continue its expert support to the project as it transitions into operation in 2017. The primary scope of work includes in-service verification of the Ichthys facilities; the central processing facility (CPF), floating, production, storage and offloading (FPSO), subsea production system, gas export pipeline, onshore combined cycle power plant and onshore LNG plant. DNV GL will also provide in-service classification of the CPF and the FPSO hulls.