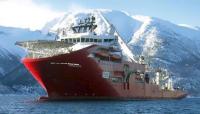 After signing a fleet-wide agreement in 2014, DOF Management and NAVTOR is taking their partnership to the next level. A new deal will see NAVTOR's innovative NavBox and NavStation services installed on board DOF's high-end CSVs, PSVs and AHTS vessels.
"We've had a great relationship with NAVTOR for several years now, and are very happy with the new agreement," says Senior Marine & Chartering Advisor in DOF Management, Nils Olav Troland. "In addition to automatic updating of ENCs, our entire fleet will be fully compliant at all times with the latest publications."
With NavBox on board the vessels, seamless automated distribution and updating of navigational data will eliminate time-consuming administration duties such as checking for updates and ordering licenses. By reducing the administrative workload DOF expects to see a positive impact on both safety and crew satisfaction.
In addition to automatic data delivery through the NavBox, the navigators will also enjoy the benefits of the NavStation software, which gathers and overlays all the data navigators require – including ENCs, weather data, digital publications, and other services – on a single screen. They can then maneuver the layers through a simple, intuitive and easy to use interface.
"With less time spent on administration the navigators will have more time to focus on their most important task: navigating the vessel," comments Troland. "And with NavStation all critical voyage information will be easily available at their fingertips, and provide everything they need to plan and organise a safe, secure and economical voyage."
The benefits of NAVTOR's services also extends to the management on shore. With the NavTracker service the management can easily track vessel and fleet movement, and have a full overview of chart usage and update history, as well as generating various reports with the touch of a few buttons.
"The NavTracker application is used daily by the management here at DOF," Troland reveals. "We even use it for contingency planning."