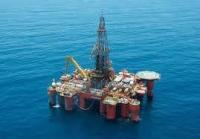 Dolphin Drilling has clinched a $255million contract with Chevron North Sea Limited in an agreement which has underlined demand for one of the firm's key assets.
The deal will put the semi-submersible Blackford Dolphin into service for Chevron for a minimum of 18-months in the UK sector of the North Sea from the second quarter of 2015.
The announcement follows three major contract wins for the same high specification drilling rig this year, with work due to be undertaken for MPX North Sea in the UK sector and Capricorn Ireland, a wholly owned subsidiary of Cairn Energy, offshore Ireland. The combined value of those two contracts is $67m. The rig will additionally work for an approximate nine month contract with Nexen Petroleum UK prior to moving to the Chevron contract.
The Blackford Dolphin, previously operating in Brazil, is currently in dry dock in Belfast undergoing preparations for the start of the first of the four contracts now secured.