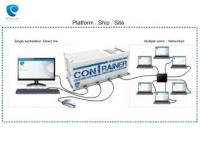 Oilennium™ Ltd., a Petrofac Training Services (PTS) company says that since Dolphin Geophysical deployed the ConTrainer™ on its global fleet of seismic vessels, the company has experienced a dramatic improvement in its ability to deliver quality, consistent Health, Safety and Technical training to its crews offshore.
The ConTrainer, a standalone Learning Management System (LMS) that features comprehensive training content for the oil and gas industry on a small computer system, is the only one of its kind to offer eLearning modules offshore and in remote locations.
Developed by Oilennium, the ConTrainer was created in response to demand from oil and gas companies seeking to provide interactive learning for employees working in remote locations where access to the Internet is intermittent.