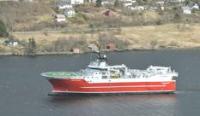 Dolphin Geophysical's newest high capacity 3D seismic vessel, the Sanco Sword has mobilised to commence acquisition of 2 new and highly prefunded Multi- Client 3D projects in the Barents Sea.
The Gohta North and Maud Basin South 3D surveys, totalling almost 6,200km2, will be acquired using the SHarp Broadband acquisition and processing techniques, which are proven, established and globally recognised by industry.
The SHarp Broadband technique also allows high-end, fast-track data volumes to be delivered within 4 weeks of finishing acquisition. These data volumes are crucial for these Barents Sea projects as it will allow Early Participating companies to rapidly screen and technically evaluate the prospectivity of the acreage in the 23rd and APA 2014 Rounds.