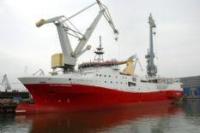 Dolphin announced that a selection of next generation streamer technology would be made in 2014. Based on thorough evaluation, Dolphin has selected the proven WesternGeco Q-Marine* point-receiver marine seismic system for the Polar Empress.
This purchase of the Q-Marine system is a first step towards a potential opportunity for purchase of a WesternGeco IsoMetrix* marine isometric seismic technology. The next generation multimeasurement IsoMetrix technology is enabled by a revolutionary streamer design that combines measurements of the total seismic pressure wavefield and its gradient-both vertically and crossline.
The adoption of WesternGeco field-proven technology will allow Dolphin to offer the most advanced and efficient seismic acquisition systems to our clients assisting in exploration and production of hydrocarbon reserves. The combination of new technology platforms and our powerful solution capabilities will make Dolphin a leading marine geophysical company.