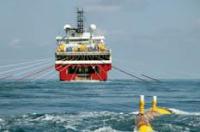 Dolphin Geophysical's Polar Marquis is currently successfully towing a record 14 streamer configuration of 14 x 100m x 6000m in the Black Sea - one of only 3 surveys ever conducted at this configuration.
The Polar Marquis boasts a powerful 220+ tons of bollard pull and is able to achieve a 5 knots acquisition speed on this record large configuration , using only 70 percent of the available propulsion.
The newest addition to the fleet ensures Dolphin can offer a lower square Km rate to the market and reduce exploration times, thus delivering a powerful, cost efficient solution to our clients.