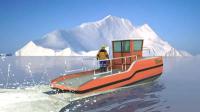 Dometic Marine has supplied air-conditioning equipment for Gobbler Boats' ground-breaking oil spill recovery vessel which is introduced at this year's Seawork International.
Designed to operate in extreme conditions in Arctic to tropical locations, the unique Gobbler Boats Offshore 290 has been fitted with a Dometic Turbo air-conditioning unit, providing 6,000 BTUs of cooling or heating power with auto dehumidification. A Dometic Breathe Easy Air Purifier will also be installed to eliminate fuel odours.
The patented Gobbler vessel, which has the capacity to collect up to 40 tonnes per hour of water-free re-claimable oil, can operate 24/7 without the need to return ashore to discharge, so effective air-conditioning and air-purification is essential to maintain an ideal environment for crew comfort and machinery efficiency, in what is deemed a hazardous environment.
Gobbler Boats co-owner Paul Jauncey commented: "Air conditioning and purification is vital for the scenarios in which we work to keep our crews healthy. People died from toxic inhalation in the Deepwater Horizon disaster of 2010 and our research showed that such tragedies were avoidable. Reverse cycle heating will give an element of comfort to our crews who will eventually be working in the colder and Arctic regions as oil exploration comes on stream."