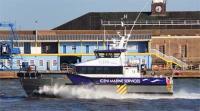 South Boats IOW has chosen Dometic Marine to supply the air-conditioning systems for two new 24m offshore windfarm workboats, Seacat Magic and Seacat Mischief.
Scheduled for launch in November 2015 and February 2016, the new Seacat Services' state-of-the-art aluminium-hulled catamarans will be fitted with units by HVAC specialists Dometic, ensuring an optimum temperature is maintained for crew comfort and machinery.
Representing the latest in a range of collaborations over recent years, boat-builder South Boats has placed the order for the equipment with Dometic for installation.
South Boat IOW, the UK's leading manufacturer of class-leading Wind Farm Service Vessels (WFSV), will build the new vessels to a new design specification after securing a £6m new vessel order from offshore energy crew transfer operator Seacat Services.
With demand for support vessels increasing due to a host of projects including the Navitus Bay and Rampion wind farms offshore wind projects, Ben Colman, Sales & Marketing manager, South Boats IOW, is looking forward to a positive year in 2015.