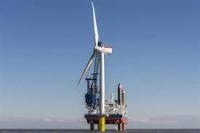 DONG Energy has acquired the remaining 66.66% ownership interest in the UK offshore wind development Hornsea Project One from its joint venture partner SMart Wind. SMart Wind is a 50/50 joint venture between Mainstream Renewable Power and Siemens Financial Services. Hornsea Project One has a total capacity of up to 1.2GW, which will make it the world's largest offshore wind farm once completed.
DONG Energy entered into the joint venture with SMart Wind in December 2011, with an option to acquire the remaining 66.66% ownership interest upon the development project receiving consent from the Secretary of State for Energy and Climate Change. Consent was granted in December 2014 and DONG Energy, having exercised its option, has become the sole owner of the project.
Hornsea Project One is located 120km off the Yorkshire coast and covers approximately 407 square kilometres. When completed, Hornsea Project One will be able to meet the electricity needs of around 800,000 UK homes.