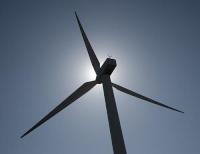 In the first of two German auction rounds, the Bundesnetzagentur has awarded DONG Energy the right to build three offshore wind projects in the German North Sea. DONG Energy submitted six projects in the bid and won with the following three projects which have a total capacity of 590MW: OWP West (240MW), Borkum Riffgrund West 2 (240MW), and Gode Wind 3 (110MW).
The three projects are planned to be commissioned in 2024, subject to Final Investment Decision by DONG Energy in 2021.
Samuel Leupold, Executive Vice President and CEO of Wind Power at DONG Energy, says, "We're pleased with being awarded three projects in the first of two German auction rounds, and we have good opportunities to add further capacity to our winning projects in next year's German auction. Today's results contribute to our ambition of driving profitable growth by adding approximately 5GW of additional capacity by 2025."
For two of the projects – OWP West and Borkum Riffgrund West 2 – DONG Energy made bids at zero EUR per MWh, i.e. these projects will not receive a subsidy on top of the wholesale electricity price. The Gode Wind 3 project was awarded based on a bid price of EUR 60 per MWh.
Samuel Leupold says, "The zero subsidy bid is a breakthrough for the cost competitiveness of offshore wind, and it demonstrates the technology's massive global growth potential as a cornerstone in the economically viable shift to green energy systems. Cheaper clean energy will benefit governments and consumers – and not least help meet the Paris COP21 targets to fight climate change. Still it's important to note that the zero bid is enabled by a number of circumstances in this auction. Most notably, the realisation window is extended to 2024. This allows developers to apply the next generation turbine technology, which will support a major step down in costs. Also, the bid reflects the fact that grid connection is not included."
Samuel Leupold continues, "Financial discipline is key to us. We are of course reflecting the project's exposure to market risk in the cost of capital applied. We see a solid value creation potential in this German project portfolio and will now begin to further mature the projects towards a Final Investment Decision (FID) in 2021."
Volker Malmen, country manager in DONG Energy Germany, says, "Making green energy cheaper than black has for years been part of DONG Energy's strategic ambition. Offshore wind is fully capable of replacing retiring power plants and to become the backbone of Germany's energy transition, and I hope that today's encouraging results will inspire an accelerated and higher volume build-out of offshore wind in Germany and motivate the electrification of transportation and heating."
DONG Energy will be responsible for the turbines, array cables and offshore substation, while grid operator TenneT will be responsible for construction, operation and ownership of the onshore substation and the export cable.
DONG Energy currently has 902MW of offshore wind in operation in German waters with Gode Wind 1&2 and Borkum Riffgrund 1 and another 450 MW under construction at Borkum Riffgrund 2, which is expected to be commissioned in 2019. In total, DONG Energy operates 3,600 MW offshore wind capacity across Germany, UK and Denmark and has a further 3,800GW under construction.