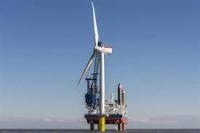 DONG Energy has signed an agreement to sell 50 per cent of the 252 MW German offshore wind farm project Gode Wind 2 to a consortium of Danish pension funds (PKA, Industriens Pension, Lærernes Pension and Lægernes Pensionskasse) that will make 840,000 pension savers co-owners of the wind farm.
The total sales price amounts to approximately EUR 600 million (DKK 4.5 billion), which will be paid in the period from 2014 to 2016. At completion of the transaction, PKA will, acquire 24.75 per cent of Gode Wind 2, with Industriens Pension acquiring 10.5 per cent, Lærernes Pension 8.75 per cent and Lægernes Pensionskasse 6 per cent.
Construction of Gode Wind 2 is expected to commence in 2015, and full commissioning for this and the neighbouring wind farm Gode Wind 1 is expected in 2016.