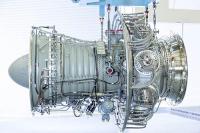 The Dresser-Rand business, part of Siemens Power and Gas, was awarded two orders to supply power generation equipment for two projects for CNOOC Limited (China National Offshore Oil Corporation Limited). CNOOC Limited is the client for the Penglai 19-3 oil field project and Harbin Guanghan Gas Turbine Co., Ltd (HGGT) is the client for the Dongfang 13-2 gas field development project.
The Penglai oil field is one of the largest offshore oil fields in China and was discovered in 1999; it's located in Bohai Bay. The scope of supply comprises two SGT-A30 RB (formerly the Industrial RB211 GT62) power generation trains for the Penglai platform. The Penglai field's 30-MW ISO power rating SGT-A30 RB turbines represent the first offshore aeroderivative gas turbine packages the Dresser-Rand business sold to CNOOC Limited. The SGT-A30 RB gas turbine is a mature product that offers fast delivery times and is ideal for minimizing project risks. With high output the turbine offers cost-effective solutions for challenging offshore applications. The Industrial RB211 evolved over 40 years of technological advancements and has more than 800 installations worldwide exceeding 37 million operating hours.
The Dongfang field, discovered in 2012, is a high-pressure, high-temperature gas field located in the South China Sea. The scope of supply comprises three SGT-600 power generation trains for the Dongfang platform. The core components of each train are supplied by the Dresser-Rand business, including an industrial gas turbine, base frame, lube oil system, unit control panel and gearbox. And auxiliary systems such as air intake and fire-fighting system are supplied and packaged by HGGT. The Dongfang platform's 25-MW SGT-600 trains add to the growing list of offshore power generation references for the SGT-600 turbine. The industrial gas turbine packages offer the optimum size turbine to meet the client's power demand.
"Both contracts exemplify the confidence our clients place in us because of our track record of high-quality, advanced technology solutions for offshore power generation needs that ultimately serve to lower our clients' total life cycle costs," says Matthew Chinn, head of New Equipment Solutions for the Dresser-Rand business.