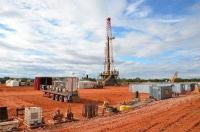 Cooper Basin focused oil & gas exploration company Real Energy Corporation Limited advises shareholders that Ensign International drill rig 916 has been mobilised and is now being rigged up at Tamarama-1 wellsite, which is located in ATP927P.
Real Energy's maiden well, Tamarama-1, is expected to spud by the end of the week. The drilling of the Tamarama-1 well is designed to confirm the presence of gas in the Toolachee and Patchawarra formations and to determine reservoir production potential.
Two additional wells, Queenscliff-1 (previously called Avalon-1) and the West Flynnes-1, have been scheduled for drilling subject to results of the Tamarama-1 well. The prospective ATP927P permit is located in close proximity to proven and producing gas and oil fields operated by Santos, with local gas production being used to meet the growing demand for gas on the eastern seaboard.