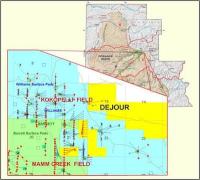 Dejour Energy Inc. says that 2014 development operations are underway at the Kokopelli project.
The new drill pad 21B has been completed including gas connection and drill pad 21A has been augmented to accommodate the drilling, equipping and utility of a water disposal well that will prove a significant economy to existing water disposal arrangements.
A Peter Martin 'conductor' rig is engaged to complete the 'rat holes' with 20' casing for eight new production wells and one water disposal well prior to the Frontier-28 rig moving in for sequential total depth drilling operations in mid-September.