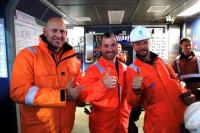 At 18:00 on 28 September, drilling of the first production well began on the Maersk Oil operated Culzean field in the UK.
The well is the first of six production wells to be drilled on the high pressure/high temperature (HPHT) field, with continuous drilling activity planned over the next five years. First gas is expected to be produced from Culzean in 2019.
"This is an important milestone in ensuring that we can deliver Culzean on schedule, and with it 5% of UK gas demand in 2020/21. It's great to have Maersk Drilling as a partner and together we are working to ensure a safe drilling programme on this critical project for Maersk and the UK," says Gretchen Watkins, Chief Executive Officer designate, Maersk Oil.
The Maersk Highlander rig is drilling the first production well through a wellhead platform (WHP) jacket and well access deck (WAD) which were successfully installed on location at the field in the spring of 2016. When the three topsides are installed in 2018 and hooked up in 2019, three of the six production wells will be ready for first gas. The WHP jacket and WAD were constructed in the Netherlands and Hartlepool, UK, with construction of the Wellhead topsides ongoing in Singapore. The drilling campaign will be supported by more than 30 UK based well services companies.
Maersk Drilling and Maersk Oil have jointly prepared the drilling on a digital "virtual well", using a specialised drilling simulator at Aberdeen's Robert Gordon University.
"Working on a virtual rig, designed to look and feel like the Maersk Highlander has been invaluable," says Andrew Lough, Culzean's Wells Delivery Manager.
"It has enabled us to prepare in a very lifelike environment for the drilling campaign, which will contribute to a safe and efficient drilling operation that will be an important milestone in developing the largest new field discovered in the UK North Sea for more than a decade."