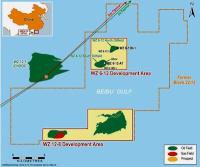 Roc Oil (China) Company, a wholly owned subsidiary of Roc Oil Company Limited, has commenced drilling on the first of two exploration wells in Beibu Gulf Block 22/12.
The first well, WZ12-10-1, is targeting the T42 and Weizhou West formations, adjacent to the WZ12-8East field of the WZ12-8 Development Area. Concurrently, the Development Area has been expanded to fully include the prospect, adding approximately 8.8 square kilometers area, making the total new WZ12-8 Development Area 66.6 square kilometers.
Drilling from jackup rig HYSY 935 commenced at 10.30pm China Standard Time on 10 September 2014.
Total depth planned for this vertical well is 1539 metres TVD . The well is located 4.7 kilometres East Northeast from ROC's existing Beibu 12-8W facilities and is in water depth of approximately 35 metres.