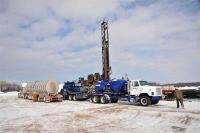 Solo Oil has commenced drilling operations on the Horse Hill-1 well.
The Horse Hill-1 well in the onshore UK Weald Basin is planned to be drilled to a Total Depth of 2,646 metres (8,680 feet) and is designed to test a number of conventional stacked oil targets in the Jurassic in the proven productive Portland sandstone, Corallian sandstone and Great Oolite limestone formations, as well as a deeper conventional gas target in the Triassic.
Solo has a binding agreement in place to own a 10% interest in Horse Hill Development Ltd (HHDL), a special purpose company, which owns a 65% participating interest and operatorship of onshore licence PEDL137 in the UK Weald Basin. HHDL is the drilling operator.