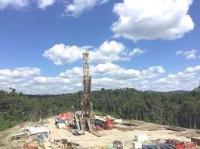 InterOil Corporation advises that the PRL-15 Joint Venture has started drilling a side-track well at the Antelope-4 site, as part of its appraisal campaign on the Elk–Antelope gas field in Papua New Guinea.
The Antelope-4 appraisal had been suspended in May 2015 at a true vertical depth sub-sea of 2,056m (6,745 feet), approximately 158m above the field gas water contact.
Well operations, which resumed on August 13, 2015, included the on-site preparation and testing of well-head equipment. Subsequently the Operator, Total E&P PNG Limited obtained approval from the PNG Department of Energy to re-enter the well.
The side-track was initiated at a measured depth of 862 meters (2,828 feet)#. As at 1530 hours (PNG time) the side-track well was drilling ahead at a depth of 895 meters (2,936 feet)#.