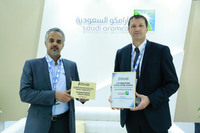 Drilling Systems, the global simulation and solutions provider, celebrated the delivery of the company's 1000th training and competency simulator with Saudi Aramco at ADIPEC 2017.
Accepting the commemorative certificate from Drilling Systems CEO, Ian Hudson, was Khalifah M. Al-Amri, General Supervisor of Aramco's Offshore Gas Drilling Engineering Division.
Saudi Aramco and Drilling Systems have had a long-standing partnership for over 10 years and Saudi Aramco now have several full-scale simulators which have been used to train, develop and assess Saudi Aramco engineers and operators.
The latest addition to the Saudi Aramco simulation capability is the DrillSIM-5000 Cyber which is a full-sized rig floor simulator, providing the trainee with a safe, realistic and highly effective, fully immersive learning and development environment to practice and perfect the skills and competencies required to conduct safe operations, and achieve a standard of operational excellence.
The DrillSIM-5000 Cyber drilling simulator provides Saudi Aramco with conventional and cyber capabilities allowing for activities from: basic drilling fundamentals through to advanced drilling programs, performance and efficiency programs such as drilling wells on the simulator (DWOS) and also provides the ability to perform competence assessments of Saudi Aramco personnel.
Drilling Systems CEO says, "Aramco has recognised the benefits of using advanced simulator technology to fast track the training of young engineers and help experienced engineers maintain competency levels. Drilling Systems are very pleased to mark this important milestone with the company."