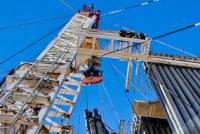 Drillsearch Energy Ltd. says that the Ex-PEL 91 joint venture (Drillsearch 60 percent, Beach 40 percent and Operator) commenced the two-well Bauer appraisal program during December, with both Bauer-24 and Bauer-25 cased and suspended as future production wells.
Bauer‐24 is the southern‐most well drilled on the Bauer Field, located approximately 3,117 feet (950 meters) south of Bauer-13 and 2,789 feet (850 meters) northeast of Chiton-3.
The well was drilled to appraise a structural high between the Bauer and Chiton fields as a possible extension of Bauer. Primary targets were the McKinlay Member and Namur Sandstone reservoirs, with the Birkhead Formation providing a secondary target.