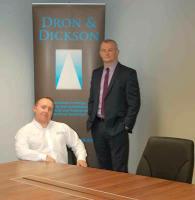 Dron & Dickson has strengthened its management team with the appointment of Lenny Collins as HSEQ manager and Bruce McHattie as UK wholesales operations manager.
Lenny Collins will be based at Dron & Dickson's headquarters in Aberdeen and will be responsible for ensuring compliance with existing and new legislation in the UK, Brazil, the Middle East and offshore. He will also provide HSEQ support and advice to all employees.
Before joining the oil industry, Lenny worked for more than 15 years in the aerospace sector, holding a number of senior engineering and HSE roles while leading manufacturing teams in the precision engineering of high volume, high quality and safety critical products.