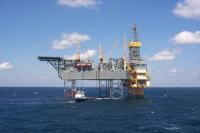 Dron & Dickson, specialists in design, supply and maintenance of hazardous area electrical equipment, has secured a two-year contract with Rowan Drilling.
The project will see Dron & Dickson providing lighting and electrical equipment to Rowan Drilling's offshore assets in the UK North Sea for the next two years.
Tom Irwin, Business Development Manager at Dron & Dickson, said: "This contract stands as a testament to our relationship with Rowan Drilling, with whom we have been working closely with over the last few years. We look forward to continuing this working relationship as we develop and enhance our product offering.