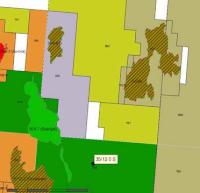 Wintershall Norge AS, operator of production licence 378, is in the process of completing the drilling of wildcat well 35/12-5 S.
The well was drilled about 15 km southwest of the Gjøa field in the North Sea and 80 kilometres southwest of Florø.
The purpose of the well was to prove petroleum in reservoir rocks from the Upper Jurassic (the Heather, Sognefjord and Fensfjord formations). Well 35/12-5 S encountered about 10 metres of sandstone in the Heather formation, 35 metres of sandstone in the Sognefjord formation and 32 metres of sandstone in the Fensfjord formation, all with good reservoir quality. It also encountered 9 metres of sandstone with poor reservoir quality in the Etive formation. The well is dry.
Data acquisition and sampling have been carried out. This is the fifth exploration well in production licence 378. The licence was awarded in APA 2005.