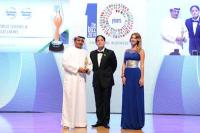 Drydocks World and Maritime World have been awarded the World Confederation of Business World Business Leader Certificate 2014 for outstanding Business Excellence.
His Excellency Khamis Juma Buamim, Chairman Drydocks World & Maritime World was awarded the World Leader Business Person Certificate for his leadership of the company. The gala event held at the Emirates Palace, Abu Dhabi on September 28 2014 also saw Excellence Certificates being presented to DDWMW in disciplines such as general management, quality and marketing
The World Confederation of Business works towards recognizing and encouraging the growth of businesses and leaders by promoting business excellence in over 100 countries.