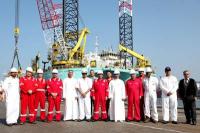 Drydocks World has completed major repair and refurbishment of National Drilling Company's (NDC) self-elevated crane vessel Al Ghweifat at its Dubai-based shipyard.
The 165 ft x 140 ft x 15 ft self-elevated crane vessel has undergone extensive maintenance related repair and refurbishment. Extensive maintenance performed on the three Truss type 260 feet long legs including the spud can, which would enable the vessel to attain peak performance at 157 feet of water. Besides external inspection, blasting and painting of the legs hull, deck, accommodation and tanks was carried out. Leg guides were inspected, replaced and painted.
Around 160 tonnes of steel was renewed. The 7 ft 7 inch high by 25 feet diameter spud cans and pumping equipment were surveyed for maintenance. Five-yearly inspection of two 70-tonne side cranes resulted in appropriate modification to install man riding. In addition, the Searex Omnilift 210-tonne crane was dismantled, inspected and overhauled.