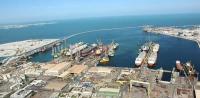 Drydocks World the international service provider to the shipping, offshore, oil, gas and energy sectors handled 37 projects simultaneously in the Dubai yard, exceeding the previous record of 35 vessels.
Due to Drydocks World's marketing initiatives and rigorous action plans, the organization is highly recommended by long-term partners and has gained the trust of major ship owners and managers. The Drydocks World commercial and marketing team has played a vital role in winning these projects, compounded by the professional services from the production teams which have positioned Drydocks World as a leading shipyard of choice.
Drydocks World's advanced facilities and world-class infrastructure have provided services to offshore assets from around the world that are worth tens of billions. Drydocks World has streamlined the organizations operations to maximize our capacity while maintaining high quality standards in order to effectively service the global offshore industry's assets. Since January 2015 Drydocks World has increased the rate of vessel completion with 33% more vessels leaving the yard in March. Drydocks World had a workforce of approximately 9,000 attending to these 37 projects and during this period dry-docked 8 vessels all in dock 2, which took remarkable skill, planning and maneuvering.