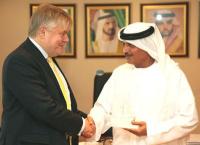 Drydocks World & Maritime World announced that Chairman His Excellency Khamis Juma Buamim has accepted an invitation to chair the DNV Offshore Technical Committee. H.E Buamim met Mr. Henrik O. Madsen - DNV GL Group President & CEO, Uwe Bullwinkel, Senior Vice President & Regional Manager India & Middle East, DNV GL Maritime and Mr. Omar Abu Omar - Area Manager, DNV Dubai Branch at a meeting held at Maritime Business Centre at Dubai Maritime City.
H.E. Buamim discussed with Mr. Madsen the ongoing business and the existing cooperation between the two groups and ways to strengthen them. The meeting also discussed business opportunities and projects available in West Africa, Mexico, Brazil and the importance of constructive cooperation to push the maritime industry and allied operations in developing economic relations and investment activities in targeted areas and emerging markets.
The Offshore Technical Committee is established as the appropriate forum for exchange of knowledge, experience and views on aspects related to DNV's services and business in the region. This committee is charged with updating and sharing current and future challenges, market developments, new technologies and future rules and regulations within the industry.