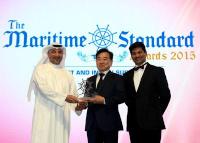 Drydocks World has received the Corporate Social Responsibility Award at The Maritime Standard Awards 2015 which was held at Atlantis The Palm on November 9th.
With a head count of over 10,000, Drydocks World is a melting pot of different cultures with 52 nationalities represented. As a result of that, management has rolled out an extensive CSR Program based on the four pillars of CSR of the Workplace, Marketplace, Community and Environment.
Among the many initiatives undertaken by the Drydocks World Group we find millions of Dirhams in donations to humanitarian drives like "The Water Aid Campaign" and "Dress 1 Million Needy Children", extensive collaboration with the Dubai Health Authority in conducting periodical blood donation campaigns, seminars, awareness seminars on issues like Breast Cancer and Prostate Cancer as well as world leading research with Imperial College, London on the programme WELSHIP and participation in Earth Hours.