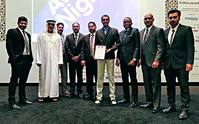 Drydocks World, the marine, onshore and offshore service provider to the oil, gas and renewable energy sectors has won the "Rig Repair Yard of the Year Award" at the 3rd Offshore Achievement Award 2017.
Drydocks world has delivered 15 projects and expected to complete 12 projects by the end of the year. Successful deliveries of these projects once again highlight the customer confidence and establish Drydocks World as the leader in this region. Drydocks World prides itself in having specific skillsets that can handle complex projects with on time delivery in a safe manner.
The yard was lauded for having deployed various programs, strategies and processes that has achieved successful measurable results with specific focus on safety and quality that are required to service offshore drilling units and onshore facilities.
HSEQ programs are systematically programmed, constantly monitored and periodically evaluated, which accounts for excellent safety records on projects. The Rig Integrity Assurance Program for Rig Diyina was successfully delivered with no loss time injuries on the 3.5 million man-hours worked.
Commenting on the award achievement, Mohammad Rizal, COO at Drydocks World says, "This is an honor for our company, which validates our approach and the hard work of Drydocks World rig division personnel. We are committed and driven by the objective of excellence in everything we do. Our diversified integrated services consistently create solutions that add value to all projects in the yard. We thank our customers for giving us the opportunity to support their rig operations. Drydocks World serviced 66% more rigs in 2017 than in 2016, demonstrating our strengthened competitive capabilities and position as a rig service provider of choice."