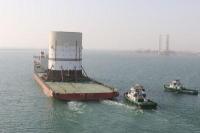 Drydocks World has successfully completed Turret modules 1& 2 to 'sail away' for the world's largest floating liquefied natural gas (FLNG) facility.
This innovative FLNG facility will be stationed by Shell at its Prelude gas field off the northwest coast of Australia, unlocking new essential energy resources offshore to meet growing demand. Once all six Turret modules are integrated in Korea and transported to Australia, they will comprise the largest Turret Mooring System in the world, weighing over 11,000 tons.
For the first time at Drydocks World- Dubai, 8 lines of 2x22 axle Self Propelled Modular Trailers (SPMT) were used to load out Turret modules 1 & 2 onto the 'KOREX' shipping vessel sailing for Korea.