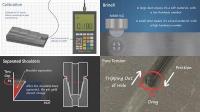 Oilennium™ Ltd, a Petrofac company that provides eLearning training services to the oil and gas industry, has announced that an exciting new way of learning how to prevent drillstring failures is now available online. DS-1® Online was developed by Oilennium for T H Hill Associates, a Buenas Veritas company that created and maintains the DS-1 standards, and trains individuals how to apply them in classroom venues worldwide.
T H Hill is quick to point out that the new course is much more than a digitised version of its traditional training course. Grant Pettit, Corporate Training Manager for T H Hill says, "In addition to making it more accessible and affordable, we wanted to make certain that it would offer a fresh, exciting learning experience, so we joined forces with Oilennium. Together, we have not only transferred our expertise and essential aspects of our live training course, but offer customised interactive scenarios and access to live discussions with instructors. By working with Oilennium, DS-1 is now available on a new medium and in a new way."
To help users learn how their actions can affect a drillstring, Oilennium developed several custom interactive scenarios for the course. One scenario requires the user to set the temperature at which a Liquid Penetrant Inspection is conducted. If it is too high, the penetrant will dry instead of run into the crack; too cold and it becomes too thick to flow properly. As a result, the user learns how critical it is to maintain the correct ambient temperature. This is just one example of how the course offers "experience" to the user, driving home the importance of how implementing proper procedures prevents drillstring failure and the associated downtime.
Every user who enrols in DS-1 Online also has access to regular live-streamed discussions with instructors who have not only worked in the drilling industry, but are qualified engineers. By hosting video discussions live online, trainees can ask questions to quickly clarify aspects of the course, and develop a more personal relationship with T H Hill experts.
In addition, users have full access to the electronic version of T H Hill's four-volume series of DS-1 Standards, which the company developed to set global standards for drilling equipment specifications and quality assurance. To make certain that users are prepared to take full advantage of the four-volume set, Oilennium created interactive exercises to show learners how to use the DS-1 books to find information about their drillstring, along with its capabilities and tolerances. To support this, each exercise is followed by a knowledge check that asks them to use their own DS-1 books to find the answer to some example questions.
Samantha O'Hara, General Manager of Oilennium, comments, "When T H Hill began looking for a way to make it easier for drilling companies - regardless of location - to train staff without footing the bill for accommodation and travel to the live sessions, they turned to Oilennium. To ensure that the course accurately reflects the live DS-1 classroom training sessions, Oilennium filmed all 13 units of the course as it was presented to trainees at T H Hill's headquarters in Houston. Oilennium drew upon this film footage to create the 13-module eLearning programme. It features high quality animations, custom interactive scenarios, real-time discussions with live instructors, clever visuals, and quizzes to test user retention. It is truly a unique, effective and affordable learning experience."