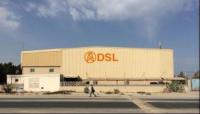 DSL MENA expands operation capability with a new facility in Hamriyah UAE, with quayside access providing direct access to the Arabian Gulf.
This facility will support DSL's growth in the Middle East and will enable expansion of products and services for our upstream customers in the region. The facility is equipped with modern office space, 3,700 m2 of fabrication workshop, 4,000 m2 of fabrication/rig up yard space and direct quayside access to the Persian Gulf.
DSL will support customers in the MENA region by offering an extensive range of products and services, these include but are not limited to the following; mast & substructure manufacture, derrick manufacture, recertification of drilling structures, API 4G CAT III/IV inspections, drops surveys, offshore trades and rope access. DSL also has a significant engineering resource in this operation to support design requirements for our customers.