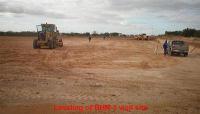 DualEx Energy International Inc. announced the following operational update regarding the Company's BHN-1 exploration well on the Bouhajla Permit in northeastern Tunisia.
DualEx has attempted to perforate three intervals of an aggregate 15 metres of Abiod formation, which is interpreted to be hydrocarbon bearing and fractured. Following perforation, attempts to inject acid into the formation in order to clean up the near wellbore zone and enhance the reservoir's natural permeability have been largely unsuccessful, suggesting that the perforations were not effective. As a result, DualEx is planning further wellbore diagnostic measures to ascertain the presence or absence of perforations. The wellbore will now be suspended awaiting the arrival of wellbore imaging equipment, which is expected to arrive in country within the next thirty days.
"Although this situation is unusual and not as expected, we are committed to ensuring that a proper and thorough evaluation of the BHN-1 well is undertaken" said Garry Hides, DualEx President & CEO. "Should this analysis confirm the absence of effective perforations, a second completion program will be initiated."