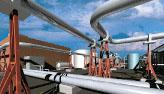 Dundee Energy Limited is providing an update on the relinquishment of the Castor Project. On October 3, 2014, the Spanish government approved Royal Decree-Law 13/2014, which formally accepts the relinquishment of the Castor underground gas storage exploitation concession and the related facilities (the "Castor Project") pursuant to the application made by Escal UGS S.A (Escal), the owner of the Castor Project.
The Royal Decree-Law came into force on October 4, 2014, the day of its publication in the Spanish Official State Gazette, but remains subject to ratification by the Spanish congress within 30 days.
The Royal Decree-Law acknowledges the termination of the exploitation concession, and reverts ownership of the associated facilities back to the public domain. As provided in the terms for relinquishment, Escal is entitled to receive compensation equal to the net value of its investment in the Castor Project, which the Royal Decree-Law has determined to be EUR1.46 billion.