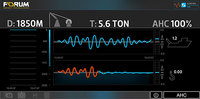 Forum Energy Technologies, Inc. Dynacon business line, manufacturers of Launch & Recovery Systems (LARS), and Scantrol, a world recognised supplier of Active Heave Compensation (AHC) control systems, are joining forces to offer AHC functionality to new and existing customers.
As the industry continues to evolve, with increased emphasis on operational risk mitigation and value creation, AHC functionality is fast becoming a standard requirement. "We evaluated the marketplace for available and compatible systems, and are very happy to have put an agreement in place with Scantrol as our preferred provider and partner," remarks Mark Brookes, Vice President Products and Services at Forum Energy Technologies.
"Scantrol is excited to work with the world's leading manufacturer of LARS systems. From our experience we know that the client can operate more cost-efficiently when integrating this functionality by increasing the weather window, reducing the damage of equipment and the burden of the ROV crew," explains Rolf Krogh Hjelmeland, Business Development Manager for AHC at Scantrol.
The companies are excited to make this solution available for new and existing clients. Many existing Dynacon systems can be retrofitted to have AHC with little or no adjustment.