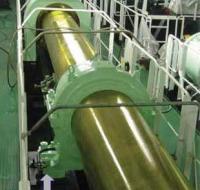 More than 20 percent of all machinery claims, as well as catastrophic failure, off-hire and repair costs are caused by misalignment – the cause of almost all propulsion train damages.
And it's even getting worse as modern ship design pushes the envelope. However, a Swedish and Dutch invention provides a total elimination of misalignment and a complete modernisation of today's obsolete shaft alignment practice.
The revolutionary device, the Dynaligner, guarantees troublefree operation of marine propulsion trains, irrespective of ship operation condition or hull deflections, etc.