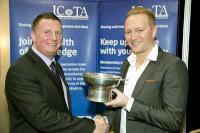 E Plug has been named 2015 winner of the Intervention & Coiled Tubing Association (ICoTA) European Chapter's highly-regarded Innovation Award.
The award, which recognises technical innovation in well intervention and coiled tube technology, was presented during the SPE ICoTA European Well Intervention Conference taking place in Aberdeen this week (November 11 and 12).
E Plug's new TorcPlug is a single run, multiple set and release plug technology which enables a plug to be set and repositioned or reset multiple times as opposed to conventional bridge plugs. group tours to uzbekistan The TorcPlug, which is run on an e-line with an Electrical Manipulation Tool (EMT), will reduce operational risk and help operators save substantial operational time without compromising safety.