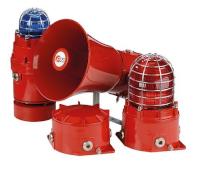 E2S Warning Signals is showcasing its new STEx premium stainless steel flameproof warning device family for use in aggressive onshore and offshore environments on Stand 5250, Hall 5 at ONS, held from 29 August – 01 September in Stavanger, Norway. E2S, manufacturer of audible and visual warning devices, has developed the STEx family specifically for use in environments where corrosion is a particular issue. The family is launched with ATEX and IEC IECEx approvals; testing to other relevant global standards is currently under way.
The STEx family consists of 117 and 123 dB(A) alarm horn sounders with either flared or omni-directional radial horns, 15 and 25 Watt PA loudspeakers, 21, 15 and 10 Joule Xenon strobe beacons, rotating halogen beacons, LED beacons and combined units. Also immediately available are stainless steel junction boxes.
All sounder and strobe enclosure bodies are manufactured from 316L stainless steel with ancillary components such as dome guards, mounting brackets and stopping plugs in 316, giving enhanced corrosion resistance over other widely used materials such as 304. Beacons and junction boxes have four M20 entries; sounders and combined units have three M20 entries. 1/2-inch and 3/4-inch NPT and M25 adaptors are available.
The E2S stand will be manned by personnel from Marin Supply, E2S's long established Norwegian distribution partner, who will be supported by international sales manager Darren Mann and central Europe sales manager Joachim Ebert from E2S.