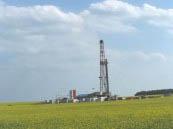 MOL Plc. hereby informs the capital market participants that Kalegran Ltd. (a 100% subsidiary of MOL), as Operator has started the early production from the Bijell Field on its Akri Bijeel Block, following the successful testing and tie in of Bijell-1B well to the Extended Well Test (EWT) facility.
Early production through the Bijell-1B well is around 3,500 barrel per day level at the moment. Parallel Bijell-2 well gave also promising test results from the Jurassic structure. After reaching and testing its Triassic targets it is planned to be tied in to the EWT by the end of August.
Drilling of Bijell-4 well is ongoing, while spud of Bijell-6 well expected in March, both are planned to be tied in to the EWT by year end. Following currently ongoing geological assessment of the whole block submission of the Field Development Plan is due by end of April.