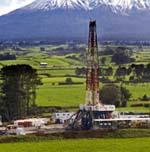 East West Petroleum Corp. provide the following update on its operations in New Zealand.
As reported by East West's partner in New Zealand, TAG Oil Ltd. (TAG) in its quarterly update, the Cheal E-1 well has completed five days of its 15 day production test. To date the well has tested with an average production rate of 600 boepd (94% oil) with a naturally flowing tubing head pressure of approximately 600 psi. The well has been restricted with a 1/4" choke until further oil storage facilities are added to the site, following greater than anticipated initial flush production rates.
The Cheal E-1 to E-3 wells have now been drilled and completed and the E-4 well is currently drilling. To ensure reliable production forecasting on future wells in this emerging Urenui/Mt. Messenger play, the Cheal E site wells will be initially tested individually, with each well flowing for approximately 15 days, and then shut in temporarily to conduct pressure and temperature analysis.