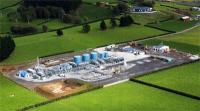 East West Petroleum Corp. has drilled the Cheal-E6 well (30% working interest) in the Taranaki Basin of New Zealand. TAG Oil Ltd. (TAG) is the operator and co-owner of all of the Company's licenses in New Zealand.
The Cheal-E6 well was drilled to a total depth of 1,939 metres (6,360 feet) and is interpreted to have intersected over nine meters (29.5 feet) of net oil and gas bearing sands in the Mt. Messenger Formation, which was the main objective of the well. The well will now be completed as a potential oil well with production testing to begin this week and, if economic, will be immediately commercialized through the existing production infrastructure at the Cheal E-site.
David Sidoo, President and CEO of East West commented, "We are very pleased with the results of the Cheal-E6 well which is the sixth well to date to encounter hydrocarbons on the Cheal North Block. East West is looking forward to continued exploration on the Cheal North Block where a further 15 to 20 potential targets have been identified for future drilling."