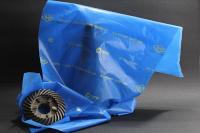 Storage and shipment can be a dangerous time for metal parts susceptible to corrosion. Exposure to extreme environment conditions causes valuable assets to corrode or tarnish before they are even used. Corrosion not only damages the product, but also hurts the manufacturer's reputation and bottom line due to rust claims.
Cortec® now offers a new innovative solution to these challenges with EcoShield® VpCI®-226 Series Film – an easy to use packaging for corrosion protection. EcoShield® VpCI®-226 Series Film replaces the typical oils and desiccants used to protect packaged metal parts, not only guarding against corrosion, but eliminating extra labor time and the hassle of removing greasy coatings. Metal parts protected in EcoShield® VpCI®-226 are ready to use immediately after unpacking. Once removed, the non-toxic film (which does not contain nitrites, phosphates, or halogen-based materials) can simply be recycled.
Metal parts packaged in EcoShield® VpCI®-226 are continuously protected from the corrosive effects of salt, excessive humidity, condensation, moisture, aggressive industrial atmospheres, and dissimilar metal corrosion. Vapor phase Corrosion Inhibitors (VpCIs) in the film vaporise and condense on metal surfaces in the enclosed package, reaching every area of your part to protect exterior as well as hard-to-reach interior surfaces. This provides complete product protection during storage and domestic or oversea shipments and virtually eliminates rust claims. Parts packaged in EcoShield® VpCI®-226 Film or Bags can be protected from rust, tarnish, stains, white rust, and oxidation for up to 5 years, depending on film construction thickness and application.
The film is heat sealable and comes in standard or customised forms including sheeting-reinforced film, Ziploc and Auto-Bags, gusseted liners, perforated sheeting, coil covers, shrink film, tubing, and more. EcoShield® VpCI®-226 can protect parts as small as a needle or as large as the contents of an oceangoing vessel. Custom blends are available to give you the exact properties you need for improved puncture resistance, tear strength, antistatic ability, or other requirements. In addition, the see-through film makes it easy to identify packaged parts.