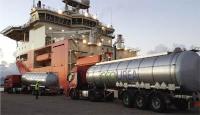 ECOUREA have successfully commenced operations at a brand new state-of-the-art urea blending facility in Bergen. The plant conforms to the latest ISO standard for Marine Urea 40 % ISO 18611-1: 2014.
Marine UREA 40 % - Our commitment to the future
Our Hi-Tech manufacturing facility in Bergen has now officially started production of Marine Urea 40% and AdBlue 32.5%
The new facility is a great investment for ECOUREA, the local environment and Scandanavia's air quality.
The facility has been designed to meet the growing demand for Urea for both the Marine industry and for land based and transportation sectors, enabling companies to comply with ever-tightening emissions regulations.