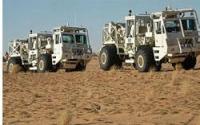 Edgo Energy has signed a production sharing agreement (PSA) with the Ministry of Energy and Industry of the Republic of Tajikistan for license areas Surkhsimo and Qarordon in Tajikistan.
The signing ceremony follows a review process by the Tajik Government an formal approval by the President of Tajikistan.
Omar Masri, managing director of the Edgo Group said,'We are very pleased to have signed this production sharing agreement Edgo Energy is confident that there is considerable potential for oil and gas discoveries and we look forward to progressing work on the license areas."
The two license areas are located close to the Tajikistan - Afghanistan border and are part of the Tajik proven hydrocarbon basin. The production sharing agreement provides for a seven-year exploration period from November 18, 2013, and a thirty-year exploitation period (with two five year extension allowed).