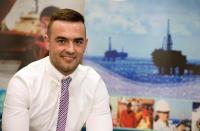 A young trainee who has his sights firmly set on an exciting career in the oil and gas industry has won the coveted OPITO Apprentice of the Year award.
Edinburgh College student, John Paterson (22) faced competition from technicians across Scotland to win the top honour in the Upstream Oil and Gas Industry's Technician Training Scheme
The award recognises and acknowledges outstanding ability and attitude during the two year college phase of the 45 month apprenticeship scheme, which has brought 1460 young people into the oil and gas sector since it was established in 1999.
Split into two phases, the programme, which celebrates its 15th anniversary next year, sees students take part in a 21 month full time course at one of the industry-appointed colleges, before embarking on a two year worksite placement.