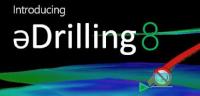 eDrilling, provider of drilling and well performance solutions, has announced that the only well and field specific (and thus truly realistic and relevant) training just got (even) better.
A key product in the eDrilling family of drilling and well performance solutions, the real-time downhole simulator for collaborative team training has added a number of new groundbreaking features, including Nitrogen Cap Drilling (NCD) simulation capability) – as part of the August 30th eDrilling8 launch.
More than 3,500 drilling and well professionals have already "drilled the well" in simulator (i.e. integrated client specific well data in early well planning) with partners Maersk Training and Oiltec Solutions in Stavanger, Norway, on 100-plus well specific training scenarios. This training is now also available globally.
"Our ambition is enable training for all types of drilling operations, challenges, and techniques," says Morten Svendsen, Product Manager in eDrilling. "We are privileged to work with E&P and service companies seeking real change in transitioning and adapting to our new market reality. There are still some laggards, but current climate with focus on costs, safety, quality, and efficiency are forcing most of them down off the fence."