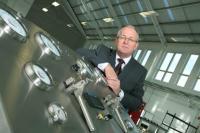 EFC Group has been announced as a finalist in the Elevator Awards 2015, previously known as The Grampian Awards for Business Excellence.
The company has been shortlisted in the 'Business Success over 3 years' category, with winners due to be announced at a gala dinner taking place on Thursday, 25 June.
This welcome news adds to what has been a strong start to 2015, with the group announcing in February that it is one year ahead of schedule for reaching its 2016 turnover target of £30million.
CEO of EFC Group, Bob Will, said: "We are thrilled to be shortlisted as finalists in the Elevator Awards. Having been in operation for over 27 years, we have established ourselves as one of the world's market-leading capital equipment providers for MPD (Managed Pressure Drilling) control systems. Testament to this, our 12 month sales orders for 2014 totalled £40million, a year-on-year growth of 130%.