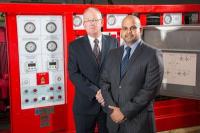 EFC Group has appointed Anand Puthran as its managing director, a newly created role for the company.
Anand joins Electro-Flow Controls with more than 15 years' experience working in the oil and gas industry in managerial positions. Anand most recently spent time with ABB in Workington where he managed the product manufacturing unit and centre of excellence for ABB's measurement product offerings to oil and gas clients.
Prior to this, he spent seven years based in Aberdeen as the director of operations and central services for Online Electronics Ltd, where he led strategic projects to support continuing business growth.
He also holds an MBA from the Aberdeen Business School and is a member of the Chartered Institute of Marketing.