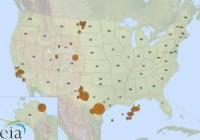 The top 100 oil fields in the United States accounted for 20.6 billion barrels of crude oil and lease condensate proved reserves, or 56% of the U.S. total in 2013. The top 100 natural gas fields accounted for 239.7 trillion cubic feet of natural gas proved reserves, 68% of the U.S. total. Proved reserves are defined as estimated quantities of oil and natural gas that analysis of geologic and engineering data demonstrates with reasonable certainty are recoverable under existing economic and operating conditions.
EIA last published the rankings of the top 100 oil and natural gas fields in 2009. Since then, using 2013 data, oil fields in the Eagle Ford and Bakken shale plays and natural gas fields in the Marcellus Shale have become significant contributors to total U.S. reserves. Fields in the Marcellus and Eagle Ford plays appear at the top of the list in their respective categories, whereas in 2009 the Marcellus fields were ranked in the bottom half of the list, and Eagle Ford fields (discovered in 2008) did not appear in the top 100. Alaska's Prudhoe Bay, previously the oil field with the largest amount of reserves, fell to third, behind fields in the Eagle Ford and Permian Basin.
EIA defines a field as an area consisting of a single reservoir or multiple reservoirs grouped on, or related to, the same individual geological structural feature or stratigraphic condition. There may be two or more reservoirs in a field that are separated vertically or laterally by geologic features. However, this definition is not used by all states; consequently, areas classified as individual fields by some states may be combined in EIA's study.